We would like you to taste it also in ..high-quality food of Britain.. Japan. Our company is doing the help.


| | |
| --- | --- |
| Established | August 1971 |
| Founder | Hirokazu Ikeda |
| Chairman | Mieko Ikeda |
| Director | Yoko MacLellan |
| Number of Staff | 12 |
Member of British Market Council (under the aegis of the British Embassy in Japan)
・British chamber of Commerce in Japan
・Institute of Director in London

| | |
| --- | --- |
| Related Company Japan Artists Centre Building Co, Ltd | since 1958 |
| Ridgways Japan Co, Ltd | since 1987 |
| Art Gallery Seira | since 1995 |

1958
Japan Artists Centre Building Co, Ltd established by Mr
Ikeda to develop interaction between Europe and Japan in the Arts.
1971
H & I Co, Ltd established in association with Japan Artists Centre to expand its trade and the domestic marketing of European products.
1972
H & I mediated in the establishment of the Daimaru Inc at Paris International centre in France.
1973
Imported Kitchen Units from Sweden, this occasion was the first time such products in Japan and has since then, made a lasting contribution to the concept of "System Kitchens" in Japan. At the same time, it imported option of the Scandinavian style House and helped to establish the Swedish centre in Japan.
1981
Trade with UK products begun, acting as a sole agent for the UK companies - mainly specialising in handling various high quality products with Royal Warranty(ies).
1987
Ridgways Japan Co Ltd has established to import Ridgways tea from UK.
1992
Former Chairman Mr Ikeda passed away and running of company taken over by Mrs Ikeda.
1995
Art Gallery Seira established.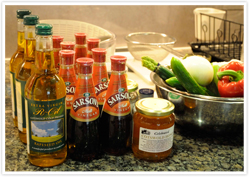 [Current]
Cotswold Speciality Foods Ltd Honey & Jams
John Ross Jr(Aberdeen) Ltd Smoked Salmon
Premier International Foods Ltd Tea
Alba Export Herb Tea
Wendy Brandon Handmade Preserves Preserves
Campbell Environmental Oils Ltd.
[Others Introduced]
Connolly Leather Leather (Interior of Nissan Cars)
Nelson & Russell Aromatherapy Goods
Kinloch Anderson Tartan Clothing Items
DR Harris Toiletries
Highland Spring Water
Woods of Windsor
Baxters

| | |
| --- | --- |
| Wako department (Nation wide) | Mitsukoshi Department (Nation wide) |
| Takashimaya Department (Nation wide) | Matsuya Department |
| Sogo Department | Daimaru Department |
| Keio Department | Meijiya Co. Ltd |
| Hamaya Co. Ltd | Mercian Co. Ltd |
| Bond Trading Co. Ltd (British Airways Sales) | Hotels and Museums |

Bank of Tokyo-Mitsubishi UFJ
Lloyds Bank